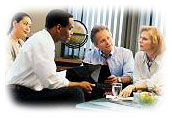 With our solutions for website design and marketing the Net is your business partner.

Use our staff of over 200 of the industries leading consultants to build your applications and solutions.

For the corporate client we offer Website design and Web Tools.

Benefit from our range of new media services including:
Diversity website design, development and hosting
e-Procurement and supply-chain management solutions
Business to Business Web commerce
web enabled Training tools, Presentations
Website Content Management
For the Small Business client we offer Website design, development and hosting: gain the competitive edge. A website promotes your services to the world, attracts new business and captures information from interested visitors.

For more information please contact our web development team.