After 9 years of data collection & research and producing the nations most highly traveled diversity website, DiversityBusiness's new Magazine leap-froged all other ethnic based magazines with its distribution to over 300,000 readers.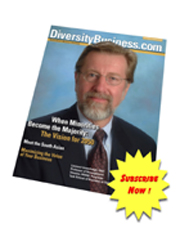 Corporations, Government Agencies, Educational Institutions and Small businesses contributed to its content.
DiversityBusiness magazine is the pre-eminent print resource in assisting clients, customers, and business partners with meeting their diversity initiatives and succeeding in the global, multi-cultural business market.
Cover Story
When Minorities become Majority: Vision for 2050
by Dr. Leonard Greenhalgh, Prof. Tucks School of Business at Dartmouth