NEW YORK, NY, December 6, 2007 / DiversityBusiness.com/--The Business Consortium Fund today announced a $1 million grant from Merrill Lynch & Company, Inc. (NYSE: MER). The Business Consortium Fund is a not-for-profit business development organization affiliated with the National Minority Supplier Development Council (NMSDC). The grant was presented in late October during the NMSDC Conference and Business Opportunity Fair in Miami Beach, FL.

"We are proud to present this grant to the Business Consortium Fund, a trusted and invaluable source for minority entrepreneurs," said Sandye Taylor, Vice President, Merrill Lynch Supplier Diversity. "Merrill Lynch's commitment to supplier diversity and minority entrepreneurs is longstanding and is no longer just the right thing to do, but rather a business imperative that benefits our firm, our clients, and our shareholders."

During its more than 20 year existence, the BCF has built alliances with major corporations, commercial lenders and financial institutions to provide loans to minority businesses that may have had difficulty in securing financing through traditional sources. Businesses seeking loans are referred to BCF by the NMSDC's 39 affiliated Regional Councils.

"Merrill Lynch has been an ardent supporter with the BCF for a number of years" said Mark Harrison, President of the BCF. "This significant contribution by Merrill allows the BCF to continue its mission of providing financing to minority entrepreneurs seeking to grow their business".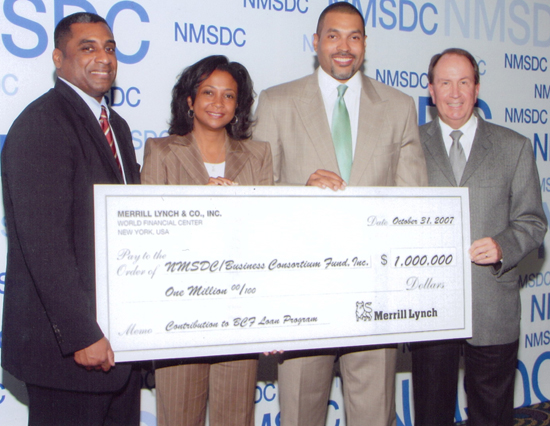 Mark Harrison, President/COO, Business Consortium Fund; Sandye R. Taylor, VP and Head of Supplier Diversity, Merrill Lynch; Chris Michel, VP of Supplier Diversity, Merrill Lynch; William Alcorn, Chairman, Business Consortium Fund The loans will benefit minority businesses that provide goods and services sold to the retail industry and other sectors in channels such as construction, food and beverage, apparel, professional services and others. These companies include G.W. Enterprises, Inc., Technologies Concepts Group, Inc., Megen Construction Company, Inc., and Cytec Software System, Inc.

"Merrill Lynch recognizes the value of minority suppliers and the importance of their ability to obtain adequate financing to grow their businesses," said NMSDC President Harriet R. Michel. "This contribution grant will assist Asian, Black, Hispanic and Native American business enterprises to build capacity and create jobs."

Entrepreneurs interested in learning more about the Business Consortium Fund should review the BCF website at www.bcfcapital.com or contact their local NMSDC Regional Council. A list of the Regional Councils is available at www.nmsdc.org.

About the Business Consortium Fund
The Business Consortium Fund, Inc. ("BCF") is a not-for-profit business development program of the National Minority Supplier Development Council ("NMSDC"). The BCF is the nation's most comprehensive financing and business support organization dedicated primarily to the certified ethnic minority-owned business sector. The BCF offers a full line of financing services through a national network of strategic alliance partners that include the NMSDC and its 39 affiliated Regional Councils, major corporations, commercial lenders, and other financial institutions and business support organizations. Additional information is available at www.bcfcapital.com.

About The National Minority Supplier Development Council
The National Minority Supplier Development Council, one of the country's leading business membership organizations, provides a direct link between corporate America and minority-owned businesses. It was chartered in 1972 to provide increased procurement and business opportunities for minority businesses of all sizes. www.nmsdc.org

Contacts
Business Consortium Fund
Socorro Vallejo, 212-243-7360

or

Merrill Lynch & Co., Inc.
Selena Morris, 212-449-7283