FORMER U.S. DIRECTOR OF CITIZENSHIP AND IMMIGRATION, EMILIO T. GONZALEZ, ADDRESSES BURGER KING CORP. EMPLOYEES AT EXCLUSIVE HISPANIC HERITAGE MONTH EVENT
MIAMI – October 15, 2008 / -- DiversityBusiness.com /- Burger King Corp. (NYSE:BKC) celebrated diversity by hosting a private luncheon on Oct. 1st for BKC employees to commemorate Hispanic Heritage month. The exclusive event featured Dr. Emilio T. González, former U.S. Director of Citizenship and Immigration Services (USCIS), as the keynote speaker. Dr. González inspired BKC employees and key executives at Burger King Corp.'s world headquarters in Miami with a candid discourse describing his experiences as head of the USCIS department.

"We were honored and privileged to include someone of Dr. González's caliber as part of our company's events in observance of Hispanic Heritage Month," stated Robert Perkins, vice president of inclusion and talent management. "Dr. González has had a distinguished and exemplary career. His experience as an immigrant who worked hard and advanced in his career to lead immigration services for this country, is an inspirational story for all of us."

As part of his address, Dr. González vividly described memorable moments in his career following his appointment by President George W. Bush in 2005 to be the Director of USCIS, a position under the U.S. department of Homeland Security. He also imparted powerful insights on the role that immigrants play in America and the challenges he faced in formulating and implementing immigration policies.

The event marked the conclusion of the organization's schedule of activities surrounding Hispanic Heritage Month, which also included an event done in partnership with the Cuban American National Council (CNC) that brought a group of deserving high school students to the company headquarters for a day of learning, fun and interaction with Hispanic role models.

ABOUT DR. EMILIO T. GONZÁLEZ
As the leader of USCIS, Dr. Emilio T. González, oversaw an organization of more than 15,000 federal and contract employees responsible for the accurate, efficient and secure processing of immigration benefits. Dr. González also served as Director for Western Hemisphere Affairs at the National Security Council, in Washington, D.C. In this capacity, he served as a key National Security and Foreign Policy advisor to President George W. Bush and Dr. Condoleezza Rice.

Dr. González has spent most of his professional career involved in foreign affairs and international security policy issues. He has served in or traveled to almost every country in the Western Hemisphere on numerous occasions, and has represented the United States Government on special diplomatic missions.

ABOUT BURGER KING CORPORATION
The BURGER KING® system operates more than 11,500 restaurants in all 50 states and in 71 countries and U.S. territories worldwide. Approximately 90 percent of BURGER KING® restaurants are owned and operated by independent franchisees, many of them family-owned operations that have been in business for decades. In 2008, Fortune magazine ranked Burger King Corp. among America's 1,000 largest corporations. To learn more about Burger King Corp. please visit the company's Web site at www.bk.com.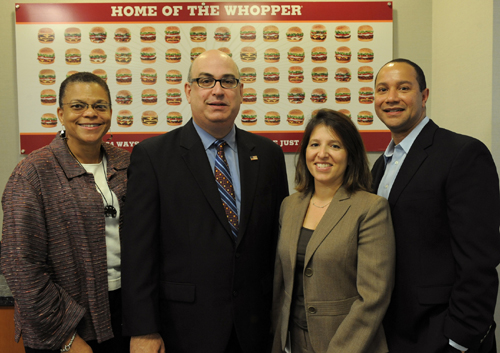 From Left: Pat Williams, Manager, Inclusion and Supplier Diversity; Dr. Emilio T. González; Andrea M. Marquez Manager, Inclusion and Strategic Partnerships; Robert Perkins, VP of inclusion and talent management.

About DiversityBusiness.com
Launched in 1999, DiversityBusiness, with over 50,000 members, is the largest organization of diversity owned businesses throughout the United States that provide goods and services to Fortune 1000 companies, government agencies, and colleges and universities. DiversityBusiness provides research and data collection services for diversity including the "Top 50 Organizations for Multicultural Business Opportunities", "Top 500 Diversity Owned Companies in America", and others. Its research has been recognized and published by Forbes Magazine, Business Week and thousands of other print and internet publications. The site has gained national recognition and has won numerous awards for its content and design. DiversityBusiness reaches more diverse suppliers and communicates more information to them on a more frequent basis then all other organizations combined. We also communicate with mainstream businesses, government agencies and educational institutions with information related to diversity. Our magazine reaches over 300,000 readers, a monthly e-newsletter that reaches 2.4 million, and website visitors of 1.2 million a month. It is a leading provider of Supplier Diversity management tools and has the most widely distributed Diversity magazine in the United States. DiversityBusiness.com is produced by Computer Consulting Associates International Inc. (CCAii.com) of Southport, CT. Founded in 1980.