Best Upon Request President/CEO recognized as a 2008 recipient of the Brillante Award for Excellence by the National Society of Hispanic MBAs
CINCINNATI, OH – October 28, 2008 / -- DiversityBusiness.com /- Best Upon Request Corporate, Inc.'s president/CEO, Tillie Hidalgo Lima, was honored as the 2008 recipient of the Brillante Award for Entrepreneurial Excellence at the National Society of Hispanic MBAs (NSHMBA) conference in Atlanta earlier this month.

"The individuals and organizations awarded the Brillante Award for Excellence are truly dedicated and determined to make a significant impact in the business world and the Hispanic community," states Lourdes Hassler, NSHMBA CEO. "They are true role models to our nation and an inspiration to our Hispanic community."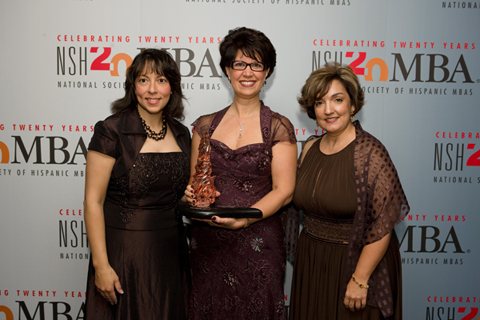 The award is a tribute to Hidalgo Lima's excellence in entrepreneurship. Under her leadership, Best Upon Request has grown from 16 employees to more than 100, from five to over 40 offices nationwide and has grown more than 535% in revenue over the past six years.

"I am very proud to receive this award, especially as a Hispanic woman because young Hispanics can look at me as a role model and believe that they can also succeed in business," said Hidalgo Lima. When asked about keys to her success, she added: "Goal setting has been critical to my success, both professionally and personally. Once goals are met, I believe in celebrating your successes as well as the accomplishments of others."

Brillante Award recipients were honored Oct. 11, 2008 at an evening gala during the national conference. The four-day conference drew more than 8,000 attendees, with 300 corporate and academic sponsors.

About NSHMBA
The National Society of Hispanic MBAs (NSHMBA) was created in 1988 as a 501(C)(3) non-profit organization. Widely known as the "Premier Hispanic Organization," NSHMBA serves 32 chapters and 7,000 members in the U.S. and Puerto Rico. It exists to foster Hispanic leadership through graduate management education and professional development. NSHMBA works to prepare Hispanics for leadership positions throughout the United States so that they can provide the cultural awareness and sensitivity vital in the management of the nation's diverse work force.

About Best Upon Request
Established in 1989, Best Upon Request is a national certified Minority and Women Business Enterprise offering on-site concierge services as a viable and highly utilized employee benefit. Concierge services are designed to enhance employees' work/life balance, leading to increased retention, satisfaction and productivity. Best Upon Request ranked 50th on the 2008 Hispanic Business magazine's Fastest-Growing Companies list and is a Better Business Bureau's Torch Award for Marketplace Ethics honoree for the third consecutive year.

Visit Best Upon Request online at www.bestuponrequest.com.
Contact Best Upon Request Corporate, Inc.
Nicole Mazur, communications manager
1-800-781-7871 ext. 123

About DiversityBusiness.com
Launched in 1999, DiversityBusiness, with over 50,000 members, is the largest organization of diversity owned businesses throughout the United States that provide goods and services to Fortune 1000 companies, government agencies, and colleges and universities. DiversityBusiness provides research and data collection services for diversity including the "Top 50 Organizations for Multicultural Business Opportunities", "Top 500 Diversity Owned Companies in America", and others. Its research has been recognized and published by Forbes Magazine, Business Week and thousands of other print and internet publications. The site has gained national recognition and has won numerous awards for its content and design. DiversityBusiness reaches more diverse suppliers and communicates more information to them on a more frequent basis then all other organizations combined. We also communicate with mainstream businesses, government agencies and educational institutions with information related to diversity. Our magazine reaches over 300,000 readers, a monthly e-newsletter that reaches 2.4 million, and website visitors of 1.2 million a month. It is a leading provider of Supplier Diversity management tools and has the most widely distributed Diversity magazine in the United States. DiversityBusiness.com is produced by Computer Consulting Associates International Inc. (CCAii.com) of Southport, CT. Founded in 1980.