DiversityBusiness.com Magazine Next Issue: Call for Papers
Southport, CT, June 04, 2009 / DiversityBusiness.com the nation's leading multicultural business website, today announced it's Call for Papers for the Fall/Winter 2009 edition of DiversityBusiness.com's magazine. The main thrust will be to focus on diversity and business topics that will be of interest to our readers in the areas of Procurement, Human Resources, Education, Government, Health, Multicultural Advertising/Marketing and Entrepreneurship. This will be an opportunity for experts to share their knowledge, experience, and expertise with others in their industries.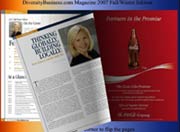 "We are committed to bringing together key decision-makers and those responsible for diversity initiatives and strategies" said Kenton Clarke President & CEO of DiversityBusiness.com... We will have a wide variety of subjects while staying within the magazine's theme.

The format provides an excellent opportunity for sharing information and experiences among our readers who have the responsibility for developing and operating the processes to achieve diversity goals and the people owners who subscribe to our magazine. Your knowledge and expertise in applying new and innovative solutions to diversity will be greatly appreciated and timely.

You may preview the current edition of our magazine at: www.diversitybusiness.com/magazine

Submission Guidelines

Papers should be approximately 1,200-2,000 words in length. They should be written as continuous expository narrative in a chapter or article style - not as lists of points or a PowerPoint presentation.

Please remember that the papers are to be published in magazine or website. This means that the style and structure of your text should be relatively formal. For instance, you should not submit a verbatim transcript of an oral presentation, such as 'Today I want to speak to you about ...'.

You may use any referencing style you choose, as long as you use it consistently and to the appropriate standards. Spelling can vary according to national usage, but should be internally consistent. Papers should be thoroughly checked and proof-read before submission, both by the author and a critical editorial friend.

The Submission Process - how and where to submit your completed paper
Completed papers should be emailed as an attachment to papers@diversitybusiness.com. The deadline for submission for the fall/winter edition of the magazine is November 30, 2009. You must fill out the template provided at: www.diversitybusiness.com/magazine/DiversityBusinessMagazineArticleTemplate.doc to submit your article.

Papers without the Authors Details and Hi-Res Picture will not be accepted

Once your paper has been received and checked to ensure that attached files open, you will be sent an official receipt notice via email. This receipt notice will include the administration number allocated to your paper. If you do not receive an official receipt confirmation within five working days of submission please contact the editor immediately at papers@diversitybusiness.com. The publication process is as follows:

1. Submit an article before the next call for papers deadline.
2. Papers are published in print and electronic formats.

Submission Timeline: You may submit at any time. The deadline for publication into a particular edition of the magazine is two months before the publication date. The timeline for the all is as follows:


December 31, 2009: Deadline for call-for-papers

About DiversityBusiness.com
Launched in 1999, DiversityBusiness, with over 50,000 members, is the largest organization of diversity owned businesses throughout the United States that provide goods and services to Fortune 1000 companies, government agencies, and colleges and universities. DiversityBusiness provides research and data collection services for diversity including the "Top 50 Organizations for Multicultural Business Opportunities", "Top 500 Diversity Owned Companies in America", and others. Its research has been recognized and published by Forbes Magazine, Business Week and thousands of other print and internet publications. The site has gained national recognition and has won numerous awards for its content and design. DiversityBusiness reaches more diverse suppliers and communicates more information to them on a more frequent basis then all other organizations combined. We also communicate with mainstream businesses, government agencies and educational institutions with information related to diversity. Our magazine reaches over 300,000 readers, a monthly e-newsletter that reaches 2.4 million, and website visitors of 1.2 million a month. It is a leading provider of Supplier Diversity management tools and has the most widely distributed Diversity magazine in the United States. DiversityBusiness.com is produced by Computer Consulting Associates International Inc. (CCAii.com) of Southport, CT. Founded in 1980.