Hank Aaron, Muhammad Ali and Bill Cosby Honored by Major League Baseball
CINCINNATI, June 22, 2009 / -- DiversityBusiness.com /--Hank Aaron, Muhammad Ali and Bill Cosby were presented with the major awards, and former President Bill Clinton challenged citizens to "keep an anger edge" in his keynote address about "identity" on Saturday during Major League Baseball's unforgettable Beacon Awards Luncheon before the evening's Civil Rights Game.

"The Gillette Civil Rights Game pays tribute to all those who stood up to inequality and to everyone who fights for freedom today," MLB commissioner Bud Selig told the capacity crowd in the Duke Energy Center ballroom. "Baseball is a social institution with very important social responsibilities, and on behalf of baseball I am proud to honor those who fight for civil rights and improve our society. I'm proud of the role baseball has played in giving people of all creeds, races and colors the chance to enjoy the life that freedom brings."

Selig presented Aaron with the Beacon of Life Award, honoring the man who hit 755 home runs and had to endure at least two major racial obstacles in baseball not just once but twice. The first was the mere task of getting into the Majors after playing in the Negro Leagues, and the second was withstanding the death threats and hatred in the process of breaking Babe Ruth's hallowed record of 714 home runs.

"Driving here this morning, I was thinking about the connection the city of Cincinnati and myself have in common," Aaron said in his acceptance speech. "About 50 years ago, I played my first game here in this ballpark, actually in Crosley Field back then, and that same year, I believe, Sept. 5 if I recall, I cracked my ankle.

"Yesterday, I had a chance to watch a roundtable, which I truly enjoyed. I just want to say, I leave all of you with these words: I hit 755 home runs, but I rode the shoulders of a lot of civil rights people, and I want to thank you for all you've done. Thank you all for making life easier."

Former boxing champion Sugar Ray Leonard presented Ali, the legendary former heavyweight champ and political activist, with the Beacon of Change Award. Ali, 68, appeared on stage already seated after the curtain was pulled, and standing beside him and speaking on his behalf was his wife, Lonnie. Sadly, "The Greatest," in the midst of a setting that had to be the most worthy of self-inspiration, was unable to motion in any way, due to Parkinson's disease. The crowd did his talking for him, a banquet of goosebumps. However, when appearing later in the day at the pregame ceremony at Great American Ball Park, Ali frequently waved with his left arm to acknowledge the crowd -- and stood with support during the national anthem.

"Muhammad has a saying -- the only thing that is constant, the only thing you can count on in life, is change," Lonnie said. "Change starts with the man or woman in the mirror. There's no way we're going to change unless we change ourselves. ... Even though we have come a long way, we still have a long way to go."

The Alis had a message to deliver to the sport of baseball, too -- drawing one of the many ovations from the crowd on this wondrous afternoon.

"Muhammad made his living in the ring, but we have become very big baseball fans and family. We have a son who plays baseball," Lonnie said. "I can't tell you the importance of this game in the neighborhoods and communities of America today. I know Hank was saying something yesterday about this, about recruiting our young children to play baseball. I think it's so important for Major League Baseball to step up to that plate and make sure these children in the community are given the opportunity to play this great sport.

"I know first-hand in Southwestern Michigan, where we live, the opportunity that baseball has provided. Not only for the game, but for society. But baseball is an expensive sport. It's not like basketball where you only need a hoop and ball. You need a bat, ball, many things, and it becomes a barrier to many of them, a hindrance to those who might become very good baseball players. I just want to leave you with that. On behalf of Muhammad, I and the family thank you so much for this wonderful award."

Clinton said of Ali: "I think all of us, at one point in our lives, if we've lived enough, have tried to imagine how we would respond if we faced some sort of significant physical challenge. Would we be bitter? Would we be heartbroken? Would we withdraw? Ali is still a big handsome man because he embraced his challenge. It's just another obstacle in life to overcome, to bear with dignity, to work through. I admire him so much because he kept on giving, and all of us should be very grateful to him as well."

Hall of Fame pitcher Bob Gibson presented Cosby with the Beacon of Hope Award. Not surprisingly, the legendary comedian -- whose countless credits include everything from the Bill Cosby Show and the voice of the cartoon "Fat Albert" to the groundbreaking "The Cosby Show" and bestselling books -- did everything but steal the show.

Cosby came out in fine fettle, dapper with shades. He grabbed the crowd like he owned it -- amazingly capable of standup comedy right now that no peer of any age could match. The first thing he did was offer a mini-roast of Hammerin' Hank.

"Henry hit all those home runs and they were because of his behind," Cosby said. "When he would come to bat, his behind was shaped like that (gesturing in a round shape). People tried to make their behinds shaped like that when they came to bat. And more people came to bat striking out trying to make their butt stick out like Henry. I didn't do that."

After Cosby's monologue, the sides of the average person in attendance at the 2009 Civil Rights Game Beacon Awards luncheon were splitting.

It was a moving luncheon, hosted by CNN's Soledad O'Brien, and for close to a half-hour the crowd heard an inspirational and passionate speech by Clinton. He spoke at length about the award recipients, about politics, about diversity and economic struggles, and about how no one can be immune from the daggers of racism and feel somehow shielded from it.

Referring to the great historian John Hope Franklin, who died in March at age 94, Clinton said: "He never lost his anger edge. He was a happy, angry man. And I think that's what we all have to do. Look, it's crazy to give your life over to anything, because that's arrogant. ... We are not given the power to dictate all events. But it's also crazy to ignore the action and passion of our time. You honor three people who never gave up their anger edge to keep making things better, to do the unfinished business of making America one country across all the color lines -- or, in the words of our founder, a more perfect union.

"Baseball is a team sport ... I knew baseball mostly as a child through television. We got one for the first time in 1956 when I was 9 years old. I got to watch Jackie Robinson. I got to watch Willie Mays. I got to see what happened in baseball over a long period of time. I'm so old that I was already out of law school by the time Hank Aaron broke Babe Ruth's record. I have loved baseball all my life, and I have revered the role it played in America's struggle to overcome its racial divisions and dark history.

"The great essayist Jacques Barzun once wrote that whoever wants to know the heart and mind of America had better learn baseball. And if you have followed America's modern struggle for civil rights from Jackie to Hank and beyond, Barzun was a pretty smart fellow. All three of our honorees today deserve the honor both because of what they accomplished in the spotlight and what they did after their careers in the stadium, the arena, the studio had tapered off. It is amazing when I think about the blessings I feel in my own life from having known these three men."

Clinton quickly tempered the moment with a reality check. If there is a theme to come out of this Civil Rights Game weekend so far, it is this: There is much to be celebrated in civil rights during this year of America's first African American president, but this is, as Cosby so eloquently put it, "not a done deal."

"A lot of people might be tempted to believe that the struggle which both produced these three giants of sports and comedy, and gave them the power to help so many others, that that struggle for racial equality is over," Clinton said. "After all, we have America's first African-American president. But I really came here to say if you want to honor Hank Aaron and Muhammad Ali and Bill Cosby, you must first recognize that this struggle is nowhere near over."

That may have generated the loudest applause of the day from a crowd that included many civic leaders and former Negro Leaguers, including the great Cub Ernie Banks and Chuck Harmon, the first African-American player signed by the local Reds. Clinton tied the Beacon Awards to events worldwide and said if he had one thing in life to do over, "I would have looked more at this question of identity."

"This is an interdependent world," Clinton said. "It is not possible to kill, jail or occupy every actual or potential adversary. Does it mean we don't need a national defense? Of course not. As we prepare for the worst, we have to be working for the best. That's what all three of the honorees do. Were they naive? No, they all have individual stories. I think about this now all the time.

"We have come so far from the days of the old Negro Leagues. But I wish that I knew Satchel Paige through films of his great pitching victories instead of reports of his statistics and clever one-liners. We've come a long way, but we've got a long way to go. The whole world today is one little place. And the fundamental questions that all three of these honorees had to ask when they started are still out there. Who am I? Where did I come from and where am I going? Is there a truth in life and can I know it, and what in the world am I supposed to do with it? What do all these other people have to do with it? Am I my brothers' and sisters' keeper? And if so, who are my brothers and sisters?

"We have to realize that if we want to keep getting, we have to give more. If we want the future I think we do for our children, we have to be able to share community and responsibility. We don't like ties in sports contests. The NHL got rid of it sometime in this decade. But we have to look for more ties in life. We have to look for more games that are win-win games, not win-lose. We have to, because of our interdependence. We have to look for more people like Branch Rickey, who didn't just want to win baseball games and he thought everyone should be able to play regardless of their race. Like Nelson Mandela. He put the leaders of the political parties that had taken away his whole life in his government after he was elected president. Because he realized South Africa had no chance unless the people were in it together.

"These are the questions we should be asking each other. ... The people we honor today and the milestones in baseball all occurred because a few individuals answered that 'Who am I?' question right."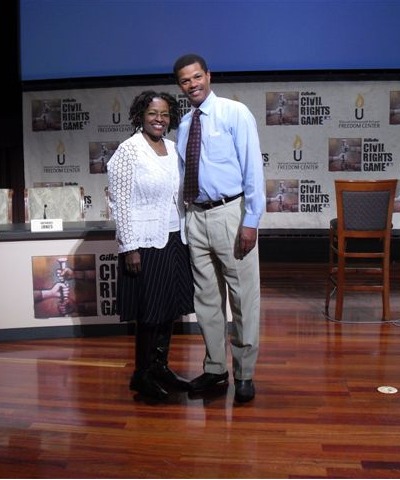 "It was a proud moment to be part of this historic weekend" said Kenton Clarke President and CEO of Diversitybusiness.com. "The programs provided our youth with a live history lesson not available anywhere else. MLB has much to do with the success of Civil Rights in America. Their vision and forward thinking continue to make them an organization not only committed to baseball but a major force in allowing people of all walks of life to participate in the American dream." MLB was named one of "America's Top Organizations for Multicultural Business Opportunities" for the last three years by DiversityBusiness.com the nation's leading multicultural and diversity business website.

In the Picture: Wendy Lewis, Senior Vice President, Diversity and Strategic Alliances, Kenton Clarke, President & CEO, DiversityBusiness.com

About DiversityBusiness.com
Launched in 1999, DiversityBusiness, with over 50,000 members, is the largest organization of diversity owned businesses throughout the United States that provide goods and services to Fortune 1000 companies, government agencies, and colleges and universities. DiversityBusiness provides research and data collection services for diversity including the "Top 50 Organizations for Multicultural Business Opportunities", "Top 500 Diversity Owned Companies in America", and others. Its research has been recognized and published by Forbes Magazine, Business Week and thousands of other print and internet publications. The site has gained national recognition and has won numerous awards for its content and design. DiversityBusiness reaches more diverse suppliers and communicates more information to them on a more frequent basis then all other organizations combined. We also communicate with mainstream businesses, government agencies and educational institutions with information related to diversity. Our magazine reaches over 300,000 readers, a monthly e-newsletter that reaches 2.4 million, and website visitors of 1.2 million a month. It is a leading provider of Supplier Diversity management tools and has the most widely distributed Diversity magazine in the United States. DiversityBusiness.com is produced by Computer Consulting Associates International Inc. (CCAii.com) of Southport, CT. Founded in 1980.