DiversityBusiness.com sponsors students to attend 11th Annual Multicultural Business Conference
Southport, CT / May 12, 2011 / --DiversityBusiness.com sponsored students to attend the eleventh annual "National Multicultural Business Conference".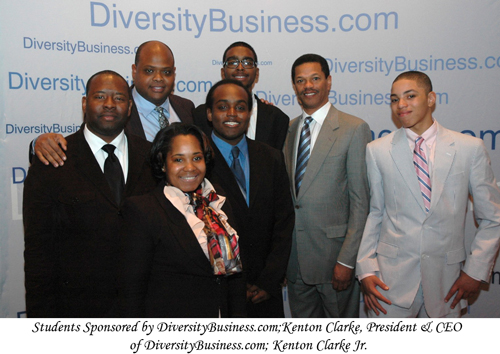 The students had the opportunity to take full advantage of the speeches, workshops and panels-as well as the social and networking aspects of the conference. They also witnessed the nation's top diversity-owned businesses, Fortune 500 companies and government agencies most dedicated to supporting diversity receive recognition for their hard work and commitment to multicultural markets in the United States.

Perhaps the most valuable take-away for the students were the keynote speeches delivered by Joan Lunden former host of "Good Morning America", Robert Johnson Chairman RLJ Enterprises, Tom Long COO Miller Coors and Nadira Hira. It was also a great experience for the students to meet and interact with senior level Fortune 500 executives and government officials, educational practitioners as well as the country's most successful entrepreneurs.

"What better opportunity for our future leaders to gain firsthand knowledge from the brightest minds who continue to strengthen our nation vitality says Kenton Clarke, President and CEO of DiversityBusiness.com. It was an honor to provide this opportunity. I know they walked away with a broader perspective about business and have become more confident and inspired to make an impact throughout their professional careers."

Conference Photo Library www.diversitybusiness.com/2011photos.

| Press Contact: Quantise Rodgers | Director of Communications | DiversityBusiness.com | (203) 255-8966 | qr@diversitybusiness.com | 200 Pequot Avenue | Southport, CT 06890 |

About DiversityBusiness.com
Launched in 1999, DiversityBusiness is the largest organization of privately owned businesses throughout the United States that provide goods and services to Fortune 1000 companies, government agencies, and colleges and universities. DiversityBusiness provides research and data collection services for diversity including the "Top 50 Organizations for Multicultural Business Opportunities", "Top 500 Diversity Owned Companies in America", and others. Its research has been recognized and published by Forbes Magazine, Business Week and thousands of other print and internet publications. The site has gained national recognition and has won numerous awards for its content and design. DiversityBusiness reaches more diverse suppliers and communicates more information to them on a more frequent basis then all other organizations combined. We also communicate with mainstream businesses, government agencies and educational institutions with information related to diversity. Our magazine reaches over 300,000 readers, a monthly e-newsletter that reaches 2.4 million, and website visitors of 1.2 million a month. It is a leading provider of Supplier Diversity management tools and has the most widely distributed Diversity magazine in the United States. DiversityBusiness.com is produced by Computer Consulting Associates International Inc. (CCAii.com) of Southport, CT. Founded in 1980.