United Technologies CEO Louis R. Chênevert Honored with Minority Business Leadership Award
HARTFORD, CT / May 24, 2011 / -The National Minority Supplier Development Council (NMSDC) presented its 2011 Minority Business Leadership Award to United Technologies Corp. (NYSE: UTX) Chairman & CEO Louis R. Chênevert for his ongoing commitment to developing a global network of diverse suppliers.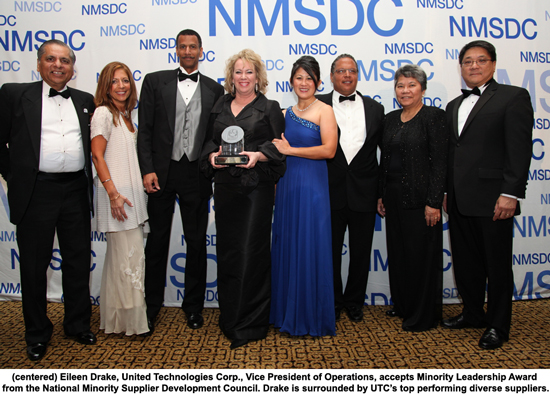 Over the past five years, UTC has spent more than $4 billion with minority- and women-owned businesses. Those suppliers, striving for best-in-class service and partnering with UTC's global workforce, are essential to the company's success.

"Diversity – whether it is among our employees or suppliers – is not just another corporate initiative. It's at the core of UTC," Chênevert said. "Our success requires diverse groups of people coming together to solve complex problems. Fostering those connections is key to UTC's future."

"United Technologies has demonstrated a solid commitment to minority supplier development for more than three decades," said NMSDC President Joset B. Wright. "That commitment remains strong under the leadership of CEO Louis Chênevert, who understands the value of supplier diversity and ensures that it is firmly embedded within the company's goals and priorities. UTC also offers a number of mentoring, training and contract opportunities to support continuous growth and improvement in its supplier diversity process — making the company quite deserving of our Minority Business Leadership Award."

"We make it a point to work closely with suppliers, share lean and best practices and create an environment where we're striving for what's next," said Eileen Drake, UTC Vice President of Operations, who accepted the award on behalf of Chênevert. "It's that commitment to constantly improving, while following the highest ethical standards, that sets our suppliers apart." The NMSDC awards were presented at the Hilton New York and Towers in New York City.

United Technologies Corp., based in Hartford, Connecticut, is a diversified company providing high technology products and services to the global aerospace and building industries. UTC's products include Pratt & Whitney aircraft engines, Sikorsky helicopters, Carrier heating, air conditioning and refrigeration systems, Hamilton Sundstrand aerospace systems and industrial products, Otis elevators and escalators, UTC Fire & Security systems and UTC Power fuel cells.

| Press Contact: Maureen Fitzgerald | United Technologies Corp. | Maureen.Fitzgerald@utc.com |

Source: United Technologies Corp.

About DiversityBusiness.com
Launched in 1999, DiversityBusiness is the largest organization of privately owned businesses throughout the United States that provide goods and services to Fortune 1000 companies, government agencies, and colleges and universities. DiversityBusiness provides research and data collection services for diversity including the "Top 50 Organizations for Multicultural Business Opportunities", "Top 500 Diversity Owned Companies in America", and others. Its research has been recognized and published by Forbes Magazine, Business Week and thousands of other print and internet publications. The site has gained national recognition and has won numerous awards for its content and design. DiversityBusiness reaches more diverse suppliers and communicates more information to them on a more frequent basis then all other organizations combined. We also communicate with mainstream businesses, government agencies and educational institutions with information related to diversity. Our magazine reaches over 300,000 readers, a monthly e-newsletter that reaches 2.4 million, and website visitors of 1.2 million a month. It is a leading provider of Supplier Diversity management tools and has the most widely distributed Diversity magazine in the United States. DiversityBusiness.com is produced by Computer Consulting Associates International Inc. (CCAii.com) of Southport, CT. Founded in 1980.