Wal-Mart names first woman as Sam's Club CEO

SOUTHPORT, CT, January 24, 2012 /-Wal-Mart Stores Inc., the world's biggest retailer, said Friday that it has named Rosalind Brewer as CEO of Sam's Club — the first woman and the first African-American to hold a CEO position at one of the company's business units.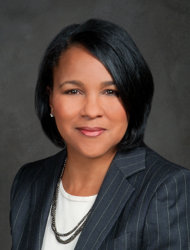 Brewer, 49, is replacing Brian Cornell, 52, who is leaving the company so he can return to the Northeast for family reasons. He had served in the role since 2009.

Brewer, who will also be president of Sam's Club, was previously president of the retailer's U.S. East business unit. She will report to CEO Mike Duke. The moves are effective Feb. 1.

Wal-Mart has in recent years has been battered by a combination of the slow-growing economy and its own decisions that caused U.S. customers to flee to competitors. But it has refocused on offering the lowest prices and shoppers' favorite goods and that strategy has been paying off. In its third fiscal quarter ended Oct. 28, its net income fell 2.9 percent but it reversed a slump in U.S. namesake business.

Its Sam's Club warehouse club business — which accounts for about 12 percent of Wal-Mart's annual sales — has outperformed its namesake stores. Revenue in stores open at least one year rose 5.7 percent at Sam's Club and 1.3 percent at Walmart U.S. stores in its third quarter. The measure is a key gauge of a retailer's financial health.

In its most recent fiscal year ended Jan. 31, 2011, Wal-Mart Stores operated 609 Sam's Clubs in 48 states and Puerto Rico with 47 million members.

Prior to joining Wal-Mart, Brewer held a number of executive positions at Kimberly-Clark Corp.

Wal-Mart also said Friday that it is promoting Gisel Ruiz, 41, to executive vice president and chief operating officer for its U.S. operations. Ruiz has been an executive vice president working on human relations and store innovation issues.

About DiversityBusiness.com
Launched in 1999, DiversityBusiness is the largest association of privately owned businesses throughout the United States that provide goods and services to Fortune 1000 companies, government agencies, and colleges and universities. DiversityBusiness provides research and data collection services for diversity including the "Top 50 Organizations for Multicultural Business Opportunities", "Top 500 Diversity Owned Companies in America", and others. Its research has been recognized and published by Forbes Magazine, Business Week and thousands of other print and internet publications. The site has gained national recognition and has won numerous awards for its content and design.