Cleveland, OH February 23, 2012/-- Deborah Pickens, director of supply chain management, was recently honored as Minority Business Enterprise Coordinator of the Year by the Northern Ohio Minority Supplier Development Council (NOMSDC). This privately funded, non-profit business organization is one of 37 affiliates of the National Minority Supplier Development Council. NOMSDC certifies, develops and coaches minority-owned businesses and supports corporations with their supplier diversity initiatives.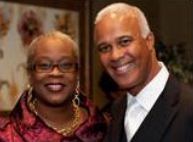 The 13th annual NOMSDC awards program recognized outstanding minority-owned businesses as well as corporations and community leaders for their work and dedication to supplier diversity.

"I am honored to receive this award," said Pickens, "and proud of Eatonís leadership role in diversity and inclusion to expand minority business opportunities in the marketplace."

This year, NOMSDC introduced an executive auction as a new element of the awards dinner. Proceeds from the auction will help fund NOMSDC programs and operating expenses. In the auction, high-profile senior executives from local corporations agreed to donate their time to meet with the highest bidder. Eatonís Craig Reed, senior vice president of supply chain management, was among the business leaders who participated in the auction. The event also hosted keynote speaker David L. Steward, founder and chairman of World Wide Technology, Inc., one of the few minority-owned, multi-billion-dollar companies in the U.S.

About Eaton Corporation
Eaton Corporation is a diversified power management company with more than 100 years of experience providing energy-efficient solutions that help our customers effectively manage electrical, hydraulic and mechanical power. With 2011 sales of $16.0 billion, Eaton is a global technology leader in electrical components and systems for power quality, distribution and control; hydraulics components, systems and services for industrial and mobile equipment; aerospace fuel, hydraulics and pneumatic systems for commercial and military use; and truck and automotive drivetrain and powertrain systems for performance, fuel economy and safety. Eaton has approximately 73,000 employees and sells products to customers in more than 150 countries. For more information, visit http://www.eaton.com.

| Holly Mueller | Eaton External Communications | 216.523.5365 | hollymueller@eaton.com |

About DiversityBusiness.com
Launched in 1999, DiversityBusiness is the largest organization of privately owned businesses throughout the United States that provide goods and services to Fortune 1000 companies, government agencies, and colleges and universities. DiversityBusiness provides research and data collection services for diversity including the "Top 50 Organizations for Multicultural Business Opportunities", "Top 500 Diversity Owned Companies in America", and others. Its research has been recognized and published by Forbes Magazine, Business Week and thousands of other print and internet publications. The site has gained national recognition and has won numerous awards for its content and design. DiversityBusiness reaches more diverse suppliers and communicates more information to them on a more frequent basis then all other organizations combined. We also communicate with mainstream businesses, government agencies and educational institutions with information related to diversity. Our magazine reaches over 300,000 readers, a monthly e-newsletter that reaches 2.4 million, and website visitors of 1.2 million a month. It is a leading provider of Supplier Diversity management tools and has the most widely distributed Diversity magazine in the United States. DiversityBusiness.com is produced by Computer Consulting Associates International Inc. (CCAii.com) of Southport, CT. Founded in 1980.