OFFICE DEPOT HOSTS HOWARD UNIVERSITY ADOPT-A-TEAM PROFESSIONAL DEVELOPMENT PROGRAM

Boca Raton, FL, May 07, 2012 / -- Office Depot, Inc. , a leading global provider of office supplies and services that helps customers save time, hosted six students from Howard University's John H. Johnson School of Communications at the Company's corporate headquarters in Boca Raton, Fla., as part of the school's Adopt-A-Team Professional Development Program. The program is designed to provide experiential preparation for sophomore and junior level students studying communications for successful entry into the workforce upon graduation.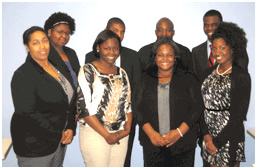 The students, who are majoring in public relations, advertising, journalism, production and marketing, toured the corporate campus and met with Office Depot executives and associates in their respective areas of concentration who answered questions and provided insight on their industries. In addition, Robyn Tyler, Vice President of Global Talent Management for Office Depot, provided resume and interview advice, while Michael Allison, Executive Vice President of Human Resources, spoke about what corporations are looking for in a job candidate today and how to succeed once hired.

"We're thrilled to host the Howard University Adopt-A-Team Program," Allison said. "Helping the next generation of professionals grow and prosper in the corporate world is vital in growing the economy. In addition, Office Depot encourages minorities to pursue their career goals, and the Howard University students had some great business aspirations in mind."

The public relations and advertising students put their studies to the test, writing press releases and creating marketing plans that were then presented to and critiqued by Office Depot professionals.

"I thoroughly enjoyed my time at Office Depot," said Shaquille Brewster. "As a Broadcast Journalism major, I valued being able to have a conversation with top executives who showed me how I could transfer my journalism skills to the corporate world. It was something that most students wouldn't normally experience."

Students who majored in other areas were also able to see how their classroom lessons could be utilized in the "real-world."

"I was surprised to see all of the different communications and marketing departments inside Office Depot's headquarters -- from corporate communications, to advertising and television production," said Teyonna Ridgeway. "The visit made me feel more confident in my prospective career choices because I realized that the skills I'm learning at Howard University will be relevant to my future, even if I am still unsure of which field I'd like to pursue."

"Office Depot really changed my perception about production's place within a corporate setting," said Marcia Jennings. "I only knew about the retail part of the Company, but after my visit I became aware of how my major, Audio Production, is incorporated into the overall scheme of the business."

Later in the school year, the students will plan and host an "Office Depot Branding Day" on Howard's campus to promote the Company as a potential employer and an office supply source. Office Depot also sponsors Howard University's Communications Entrepreneurship Research and Resource Center (CERRC), which holds an annual business plan competition geared toward preparing students to become entrepreneurs.

About Office Depot

Office Depot, dedicated to helping customers save time and money, provides office supplies and services through 1,677 worldwide retail stores, a dedicated sales force, top-rated catalogs and global e-commerce operations. Office Depot has annual sales of approximately $11.5 billion, and employs about 39,000 associates in 60 countries around the world.

Office Depot's common stock is listed on the New York Stock Exchange under the symbol ODP. Additional press information can be found at: http://mediarelations.officedepot.com and http://socialpress.officedepot.com/.

Press Contact: | Rebecca Rakitin | Office Depot | 561-438-1450 | Rebecca.Rakitin@officedepot.com |


About DiversityBusiness.com
Launched in 1999, DiversityBusiness is the largest organization of privately owned businesses throughout the United States that provide goods and services to Fortune 1000 companies, government agencies, and colleges and universities. DiversityBusiness provides research and data collection services for diversity including the "Top 50 Organizations for Multicultural Business Opportunities", "Top 500 Diversity Owned Companies in America", and others. Its research has been recognized and published by Forbes Magazine, Business Week and thousands of other print and internet publications. The site has gained national recognition and has won numerous awards for its content and design. DiversityBusiness reaches more diverse suppliers and communicates more information to them on a more frequent basis then all other organizations combined. We also communicate with mainstream businesses, government agencies and educational institutions with information related to diversity. Our magazine reaches over 300,000 readers, a monthly e-newsletter that reaches 2.4 million, and website visitors of 1.2 million a month. It is a leading provider of Supplier Diversity management tools and has the most widely distributed Diversity magazine in the United States. DiversityBusiness.com is produced by Computer Consulting Associates International Inc. (CCAii.com) of Southport, CT. Founded in 1980.