DiversityBusiness.com 12th Annual National Business Conference Post Conference Review
Southport, CT, May 31, 2012 / -- DiversityBusiness.com latest event, the twelfth annual "National Multicultural Business Conference" brought together people from all over the United States. Once again, the diversity business world came together under one roof, to network, to learn from one another, to exchange ideas, approaches and strategies, and, in the case of some, to be formally recognized for their hard work and commitment to multicultural markets in the United States.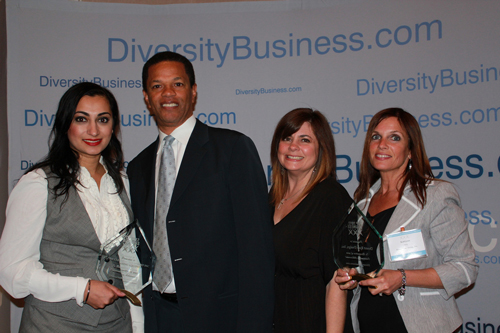 Ruby Kular, President of Alpine Cleaning Equipment, Inc.; Kenton Clarke, President & CEO of Diversitybusiness.com; Julie Poulos, VP of Strategic Solutions at Desert Rose Design, Inc. & Kathleen Steele, Principal of Desert Rose Design, Inc.

Produced for business owners and the corporations, government agencies and academic institutions that utilize their services, the DiversityBusiness.com conference offered a solid platform for the kind of interactivity, exchange and networking that is usually missing from daily business life, due to physical distance, busy work schedules and other factors.

Companies formally honored at the conference were the winners of the Div50 and the Div500 listings, which honor, respectively, the Fortune 500 companies and government agencies most dedicated to supporting diversity and the nation's top diversity-owned businesses.

"We're looking forward to another dynamic, successful year of multicultural business," said Kenton Clarke, CEO of DiversityBusiness.com. "The U.S. is so vast, and business moves so fasts, that were it not for events such as this one, the key underpinning of lasting, rewarding business relationships-face-to-face contact-would slowly fade into the background. Each year we see new faces, and they bring fresh ideas, new perspectives, strategies and of course new technologies and processes.

Perhaps the most valuable take-away for conference attendees were the new personal connections forged during the event. Held at the Foxwoods Resort and Casino in Mashantucket, Connecticut, participants took full advantage of the speeches, workshops and panels-as well as the social and networking aspects of the conference.

President & CEO of DiversityBusiness.com Kenton Clarke, kicked off the day covering the topic "Advancing our Nation's Economy through Innovation & Diversity." Karen Walker, Vice President, Segment & Services Marketing at Cisco was also a big hit with her discussion" The Era of Social Engagement "which brought light to the impact that social media has made in the global marketplace and at Cisco. Joan Lunden closed off the morning session addressing the topic "Building a culture of innovation and leadership" which emphasized building, knowing, and owning your "personal brand."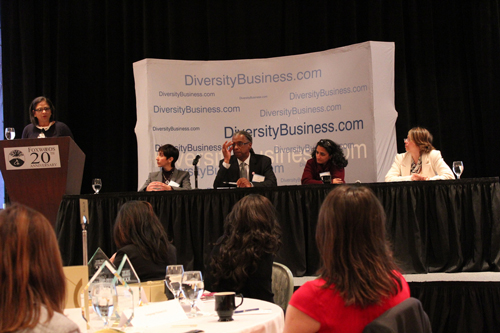 Chief Diversity Officer Panel (L-R) Subha Barry, Moderator; Georgette Dulworth, Director, Talent Acquisition and Global Diversity at Chrysler; Floyd W. Pitts, Chief Diversity Officer and Senior Vice President of Corporate Diversity of American Red Cross; Dr. Sheila Thomas, Assistant Dean for Diversity in Minority Affairs at Harvard University & Grace Figueredo, Vice President Of Diversity And Inclusion at The Hartford

Panel and workshop presentations which focused on the areas of procurement, diversity and diversity & inclusion were also given by some of the world's leading brands which include Chrysler, Lockheed Martin, Harvard University, General Motors, Blue Cross Blue Shield Association and American Red Cross.

This year's attendance featured a strong mix of business owners, Fortune 500 executives, educational practioners and senior level government officials.

Major Sponsors for the event included: Office Depot, Coca-Cola, Raytheon, AT&T, U.S. Postal Service, Hilton, Toyota, Verizon, Northrop Grumman, Apple, International Institute for Learning and United Technologies.

The Div50
The Div50 is a listing of the top 50 corporate and organizational buyers of diversity products and services throughout the country. It represents the voices of over 850,000 diversity-owned businesses in the U.S., in sectors such as technology, manufacturing, food service and professional services. The Div50 is produced annually by DiversityBusiness.com, the nation's leading multicultural B2B Internet portal that links large organizational buyers to multicultural product and service suppliers. Over 850,000 women and diverse-owned businesses had the opportunity to vote in the 2011 online election. A complete list of the winners is available at: www.DiversityBusiness.com/Div50.

The Div500
The Div500 List honors the nation's top diversity-owned businesses. It is a classification that represents the top 500 U.S. diversity-owned (Small Business, Women, African American, Hispanics, Asians, Native Indian and other diverse groups) businesses in sectors such as technology, manufacturing, food service and professional services. Ranging in revenue size from $1 million to over $2 billion, these companies represent the nation's top multicultural earners and challenge the long-held notion that a diversity-owned business is small or insignificant. The Div500 is produced annually by DiversityBusiness.com, the nation's leading multicultural B2B Internet portal that links large organizational buyers to multicultural product and service suppliers.

Press Contact: | Quantise Rodgers | DiversityBusiness.com | 203-255-8966 | qr@diversitybusiness.com |

About DiversityBusiness.com
Launched in 1999, DiversityBusiness is the largest association of privately owned businesses throughout the United States that provide goods and services to Fortune 1000 companies, government agencies, and colleges and universities. DiversityBusiness provides research and data collection services for diversity including the "Top 50 Organizations for Multicultural Business Opportunities", "Top 500 Diversity Owned Companies in America", and others. Its research has been recognized and published by Forbes Magazine, Business Week and thousands of other print and internet publications. The site has gained national recognition and has won numerous awards for its content and design.