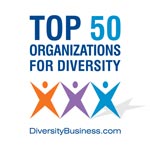 SOUTHPORT, CT, November 29, 2012/ -- DiversityBusiness.com will be holding its 13th annual online election for the "Top 50 Organizations for Multicultural Business Opportunities" from December 1, 2012 – December 15, 2012. The voting business owners base their decisions on factors such as volume, consistency and quality of business opportunities granted to diverse-owned companies. The voting is open to all businesses in the United States.

Last year over 1.3 million businesses had the opportunity to vote in the online election. The election results will be officially announced on Tuesday, December 20, 2012 at 12:00 EST on DiversityBusiness.com. The "Top 50 List" is recognized as America's leading award for Fortune 500 corporations for diversity achievements

To vote for America's top organization for multicultural business opportunities, please visit www.DiversityBusiness.com/vote.




Top Honors for Top Corporations

While other awards and "top" lists crown companies for overall economic growth, returns to shareholders and similar metrics, the Div50 is an indicator of which organizations provide the best and the most business for diversity-owned companies. In a marketplace that is increasingly as sensitive to diversity as it is to revenues, recognizing the top buyers of multicultural products and services is becoming a natural part of the new socioeconomic food chain. "Those organizations that buy the most products and services, most consistently, from diversity businesses, and that sustain the most mutually beneficial business relationships with their multicultural suppliers, should be recognized not only by the suppliers but also by the general public," said Kenton Clarke, CEO of DiversityBusiness.com.

The Business Power of Diversity As multicultural groups gain more buying power and their lifestyles become more affluent, multicultural markets are growing in economic muscle. This in turn attracts more corporations, as they compete for market share in multicultural communities. The Div50 list has become, by virtue of association, a consumer guide of sorts for women and ethnic consumers. "As a diversity business owner, I appreciate the business we receive from corporate buyers; and in turn, when I buy products and services, either as a company or as a private individual, I am much more likely to buy from the same companies that are supporting my business, or that I know are supporting businesses like mine," said Peter Clarke, owner of Advanced Cleaning Concepts headquartered in Bridgeport, CT.

The list is circulated by over 1,000 organizations that distribute it to their members and associates; it thus reaches millions of consumers every year. In twelve years, it has become a highly valued metric of corporate excellence in the diversity space.

The Div50

The Div50 is a listing of the top 50 corporate and organizational buyers of diversity products and services throughout the country. It represents the voices of over 1.3 million diversity-owned (Women, African American, Hispanics, Asians, Native Indians, Disabled, Veterans and other minority groups) businesses and Small Businesses in the U.S., in sectors such as technology, manufacturing, food service and professional services. The Div50 is produced annually by DiversityBusiness.com, the nation's leading multicultural B2B Internet portal that links large organizational buyers to multicultural owned product and service companies.

Press Contact: Quantise Rodgers | Director of Communications| DiversityBusiness.com | qr@diversitybusiness.com | 203-255-8966 |


About DiversityBusiness.com
Launched in 1999, DiversityBusiness is the largest organization of privately owned businesses throughout the United States that provide goods and services to Fortune 1000 companies, government agencies, and colleges and universities. DiversityBusiness provides research and data collection services for diversity including the "Top 50 Organizations for Multicultural Business Opportunities", "Top 500 Diversity Owned Companies in America", and others. Its research has been recognized and published by Forbes Magazine, Business Week and thousands of other print and internet publications. The site has gained national recognition and has won numerous awards for its content and design. DiversityBusiness reaches more diverse suppliers and communicates more information to them on a more frequent basis then all other organizations combined. We also communicate with mainstream businesses, government agencies and educational institutions with information related to diversity. Our magazine reaches over 300,000 readers, a monthly e-newsletter that reaches 2.4 million, and website visitors of 1.2 million a month. It is a leading provider of Supplier Diversity management tools and has the most widely distributed Diversity magazine in the United States. DiversityBusiness.com is produced by Computer Consulting Associates International Inc. (CCAii.com) of Southport, CT. Founded in 1980.