Southport, CT, February 16, 2016 / -- DiversityBusiness.com, the nation's leading business internet portal will be hosting its "16th Annual Chief Diversity Officer Panel forum" discussion on April 26, 2016 at Time Warner Center in New York, New York.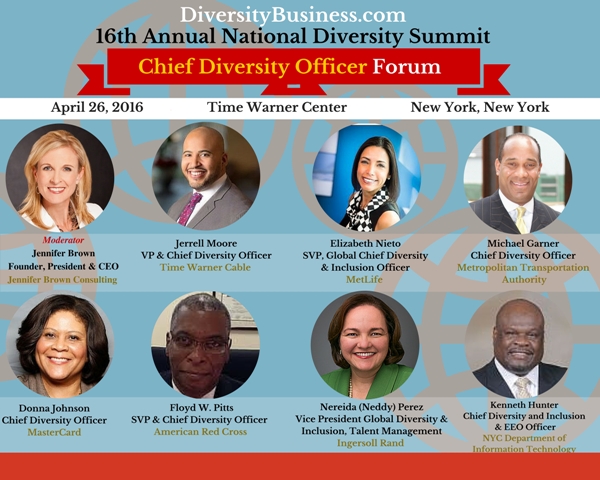 Produced for any person who has an interest in, and concern for building our economy, educational system and society through, diversity and inclusion, the Chief Diversity officer forum offers a solid platform to engage in a "town hall" discussion about the global impact multiculturalism and diversity brings in 21st century and to engage in interactivity that is usually missing from daily business life, due to physical distance, busy work schedules and other factors.
The forum is expected to draw together a strong mix of entrepreneurs, chief diversity officers anddiversity practitioners from Fortune 500 corporations, government agencies, and educational institutions, and from all over the United States.
Jerrell Moore, VP & Chief Diversity Officer with Time Warner Cable; Elizabeth Nieto, SVP, Global Chief Diversity & Inclusion Officer with MetLife; Michael Garner, Chief Diversity Officer with Metropolitan Transportation Authority; Donna Johnson, Chief Diversity Officer with MasterCard; Floyd W. Pitts, SVP & Chief Diversity Officer with American Red Cross; Nereida (Neddy) Perez, Vice President Global Diversity & Inclusion, Talent Management with Ingersoll Rand; and
Kenneth Hunter, Chief Diversity and Inclusion & EEO Officer with NYC Department of Information Technology will be participants leading the forum discussion. Jennifer Brown, Founder, President & CEO of Jennifer Brown Consulting will be instrumenting the discussion as moderator.

"We're looking forward to another dynamic, successful year of celebrating diversity and multiculturalism," said Kenton Clarke, CEO of DiversityBusiness.com. "The U.S. is so vast and diverse, and as our global landscape changes so fasts, that were it not for events such as this one, the key underpinning of the importance of understanding and adapting to the richness to a more diverse and inclusive culture may slowly fade into the background. Each year we see new faces, engage in new vibrant discussions that bring fresh ideas and new perspectives to the future outlook of our growing diverse communities.

Major Sponsors for the event included: U.S. Postal Service, Wal-Mart, Apple, Northrop Grumman, Time Warner, Hilton, Raytheon, and Colgate Palmolive.
About The Summit
This is a summit for any person with an interest in, and concern for building our economy, educational system and society through innovation, diversity and inclusion. As the summit enters its 16th year, central focus remains the same. To ensure attendees walk away motivated, inspired and fired up by the key takeaways given by the strong mix of influential and well-renowned business leaders gathered to lead this invigorating event. Addressing topics which include: motivation, leadership, entrepreneurship/innovation, technologysocial media and diversity; the summit offers a rich spectrum of perspectives that are pertinent to all business professionals. In addition, the summit offers a solid platform for the kind of interactivity, exchange and networking that is usually missing from daily business life due to physical distance, busy work schedules and other factors.

Now a major national business summit, DiversityBusiness.com first annual summit was held in Fairfield University in Connecticut during 2001. The summit has a history of bringing together entrepreneurs, corporate supplier diversity and procurement executives, chief diversity officers, diversity and inclusion and hr practitioners, government agencies and college/university practice-based participants with an interest in the issues of multicultural business and community. The summit examines the concept of entrepreneurship and multiculturalism as a positive aspect of a global world and globalized society. Diversity is in many ways reflective of our present world order. Diversity as a mode of social existence can be projected in ways that deepen the range of human experience. The summit will seek to explore the full range of what diversity means and explore modes of diversity in real-life situations of living/working together in community.

The summit supports a move away from simple affirmations that 'diversity is good' to a much more account of the effects and uses of diversity on differently situated communities in the context of our current epoch of globalization. The summit looks at the realities of diversity today, critically as well as optimistically and strategically. The summit will be a place for speaking about diversity, and in ways that range from the 'big picture' and the theoretical, to the very practical and everyday realities of diversity in organizations, communities and civic life. The annual national summit is a participants' event, including numerous parallel sessions. Summit attendees have benefited from the numerous networking and educational sessions. The summit also has a special focus on forging long term relationships for businesses and major corporations. Attendee's have reported millions of dollars in contract awards from attendance at the summit.

Press Contact: | Quantise Rodgers | DiversityBusiness.com | 203-255-8966 | Contact Us |

About DiversityBusiness.com
Launched in 1999, DiversityBusiness is the largest association of privately owned businesses throughout the United States that provide goods and services to Fortune 1000 companies, government agencies, and colleges and universities. DiversityBusiness provides research and data collection services for diversity including the "Top 50 Organizations for Multicultural Business Opportunities", "Top 500 Diversity Owned Companies in America", and others. Its research has been recognized and published by Forbes Magazine, Business Week and thousands of other print and internet publications. The site has gained national recognition and has won numerous awards for its content and design.