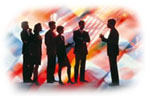 American business has arrived at the next step in its evolution - the era of global diversity.

In business, global diversity means operating in a global marketplace with an understanding of and respect for local market dynamics. It means providing goods and services that respond to local needs. It means strategically partnering with local companies and employing local professionals who know the marketplaces best. It means communicating the right message to the right audience.

Global diversity means achieving success in a vast variety of dissimilar markets and consumer demographics.

Diversity just got bigger.


In business, diversity used to mean:
businesses owned by people of color



businesses owned by women



businesses owned by the disabled
And it still does. But today, diversity also means:
innovative ideas, solutions and approaches



different business and industry competitors



new and different products and services



a more varied pool of employees



lower costs



greater quality



greater efficiency
andů
small businesses of all kinds, including those owned by Caucasian men



small businesses owned by the 55+
But today's business is more than diverse.
It's multicultural.

Markets are multicultural. Products and services are multicultural. But most of all, people are multicultural. It's the vast range of knowledge, experience, skills and that

And that opens many more opportunities for your business than you have probably ever thought of.

And that's what Div2000.com is all about. We help you harness the expertise, talent and intelligence of our nation's multicultural companies to achieve true global diversity in your business.