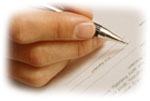 DivRegistration system allows anyone, anywhere, with web access to register on-line for your event, conference or meeting, anytime. That's Webtime. It's easy to use, saves time, and your registrants will appreciate the simplicity and availability!

For you, the event, meeting or conference planner, we provide an Internet accessible database where all the event registration information is stored in

one place

. You have no software to install; you only need your browser. And, you can use your merchant account or ours to collect credit card registrations.

Your registrants can reach your Internet DivRegistration page with hyperlinks from your own web site. If you are not on-line yet, we can provide you with your own web page with your logo for promoting your event. This page is automatically linked to your Internet DivRegistration page. All you have to do is provide us with a few details. We can set you up in a few minutes!

Whatever route you choose, there are many benefits to you and your attendees of registering online:
Cost effective, saving on administration



Fast communication, through every stage of your event



Very efficient, enabling immediate registration.



Highly accurate with individuals inputting their own details



Total convenience with 24/7 access world-wide
Our goal is simple. To provide a highly efficient registrant management service through every stage of your event. We take a systematic and comprehensive approach, focusing on attention to detail for total professionalism.
One Point of Contact for registration and response, ensuring a consistent message is delivered at all times to attendees.
A wide range of modules enabling you to choose levels of complexity, service and value that are best suited to your needs.
A powerful & flexible database allowing both large and small groups of attendees to be managed simultaneously without compromising speed and accuracy. Our database has been specially designed to assist in the administration and control of all aspects of events, seminars, meetings and parties. As well as efficiently managing attendee data, it also helps Event Registration analyse specific booking and resource criteria relating to your event.
For more information, please contact us.