All rights reserved.

Print this Article

Email this Article

Submit a Story

Purchase/License

More Articles
---
Diversity and Inclusion at Xcel Energy: by Dan Hauser
SOUTHPORT, CT –/ -- DiversityBusiness.com /- Four years ago, Xcel Energy, a $10 billion utility based in Minneapolis, participated in a National Urban League Diversity Survey. The results did not please management.

"That survey highlighted significant gaps," says Marvin McDaniel, who took over as Xcel Energy's vice president of Human Resources six months ago and has made the company's diversity and inclusion efforts a top priority.

"The survey results showed us that the company needed to do a better job of integrating diversity into the entire business; something above and beyond administering EEO or Affirmative Action programs," he says. "We needed to move from a compliance mentality into a proactive, diversity and inclusion mentality."

Xcel Energy is busy creating and reinforcing consistent diversity and inclusion strategies, programs and communications across the entire corporation.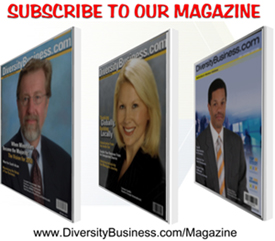 Recently, the company launched a number of initiatives regarding diversity and inclusion:

A group of senior management completed comprehensive training with an outside diversity and inclusion expert;
The company recruited new members to its Council on Diversity & Inclusion (CDI);
The company realigned its Employee Network Groups (ENGs), which represent a variety of growing employee populations; and
Xcel Energy also launched a high school recruiting initiative in Denver with the local chapter of the International Brotherhood of Electrical Workers (IBEW) that will soon be replicated in Minnesota and Texas.

"We are approaching diversity and inclusion on a number of fronts," McDaniel says. "We are a public utility. We need to be active in the community and represent all members of the communities in which we do business."

Sound Business Sense
This recent drive for diversity and inclusion makes sound business sense, says Ray Gogel, vice president of Customer & Enterprise Solutions and Chief Administrative Officer.

"In the next 10 years, we could lose approximately a quarter of our current employees due to retirement," he says. "The Baby Boomers are getting older. We need to replace these workers in order to continue serving our customers. And the people who will be replacing those Boomers will include many women and minorities. We need to be sure we have an inclusive work environment so that we can attract new workers -- and so that once they are here, they will want to stay here and thrive."

A Council committed to diversity and inclusion
In 2006, the company formed a council solely dedicated to diversity and inclusion. The current version of this 13-member group represents a broad swath of the company's departments and business areas – everyone from a meter reader to a director of Supply Chain Operations, McDaniel says.

The CDI's overriding mission is to champion a culture that celebrates diversity and inclusion, plus:
Build a culture rich in diverse and inclusive behavior by acting as a central point of contact to identify strengths and challenges of the culture;
Work with management as advocates for diversity to the entire organization; and
Create innovative solutions for policies, procedures and processes to support its culture of diversity and inclusion.

In 2007, the CDI commissioned the Maryland-based Winters Group to conduct a cultural audit. The consultants met with 52 focus groups of employees and asked about their perceptions on diversity and inclusion, with various strengths noted and areas of improvement identified.

"The audit provided us with valuable insight to help focus the company's diversity and inclusion efforts," McDaniel says.

After viewing the audit's results, the company's top executives requested diversity and inclusion training with the Winters Group. The training included a look at the workforce changes that would occur, the rapidly changing employee environment in the utility industry, and the expansion of the definition of diversity to go past the traditional lines based on gender, race and age. This was completed in mid-December of 2007.

The CDI will continue to meet each month and help guide the company's diversity and inclusion efforts.

Advocacy groups for specific employee populations
Along with the CDI, Xcel Energy creates a more inclusive workplace by supporting and empowering its employee networks. These groups are encouraged to use their skills, influence and experience to raise awareness of key workplace diversity issues.

Management recently met with the ENGs to encourage the groups to promote themselves more actively and work with the communities served by Xcel Energy.

"We are empowering our employee groups to become even more active than they have been," McDaniel says. "They can help us attract and retain a diverse group of employees. Plus, we'd like to see them become advocates internally as well as externally."

Xcel Energy's five Employee Network Groups currently represent and support: gay, lesbian, bisexual, transgender, African-American, Latino and female employees.

"We will continue to support these ENGs and any other groups that form that are dedicated to championing diversity and inclusion at Xcel Energy," McDaniel says.

Diversity recruiting at the high school level
Along with current employees, Xcel Energy's diversity and inclusion efforts are reaching out to potential employees, too.

In 2006, Xcel Energy and Local 111 of the IBEW (International Brotherhood of Electrical Workers) developed a Joint Diversity Recruitment Initiative in Denver.

"Our goal with the initiative was to generate interest with a diverse group of high school students in entry-level union jobs," McDaniel said. "Once they join the company and establish themselves, we'll move them into our apprenticeship programs."

Xcel Energy began by hosting a Career Exploration Day in Denver in April 2007. As a result of this exposure, the company provided 14 juniors and seniors with an eight-week, paid, job-shadow experience. In 2008, the company is hoping to provide job-shadowing positions for 30 students.

The company is planning to replicate this initiative in its Minnesota, Wisconsin and Texas service territories.

"We have a lot going on with diversity and inclusion right now," McDaniel says. "And more planned for the future. We want Xcel Energy to be known as a diverse and inclusive place to work by the people who work here currently and by those who want to work here in the future."

About DiversityBusiness.com
Launched in 1999, DiversityBusiness, with over 50,000 members, is the largest organization of diversity owned businesses throughout the United States that provide goods and services to Fortune 1000 companies, government agencies, and colleges and universities. DiversityBusiness provides research and data collection services for diversity including the "Top 50 Organizations for Multicultural Business Opportunities", "Top 500 Diversity Owned Companies in America", and others. Its research has been recognized and published by Forbes Magazine, Business Week and thousands of other print and internet publications. The site has gained national recognition and has won numerous awards for its content and design. DiversityBusiness reaches more diverse suppliers and communicates more information to them on a more frequent basis then all other organizations combined. We also communicate with mainstream businesses, government agencies and educational institutions with information related to diversity. Our magazine reaches over 300,000 readers, a monthly e-newsletter that reaches 2.4 million, and website visitors of 1.2 million a month. It is a leading provider of Supplier Diversity management tools and has the most widely distributed Diversity magazine in the United States. DiversityBusiness.com is produced by Computer Consulting Associates International Inc. (CCAii.com) of Southport, CT. Founded in 1980.


---
All rights reserved.

Print this Article

Email this Article

Submit a Story

Purchase/License

More Articles