Southport, CT. - June 4, 2009 / -- DiversityBusiness.com announced its call for 2010 nominations for "Champions of Diversity" award. This distinguished group of individuals is recognized for their outstanding achievements in various diversity initiatives.

The list includes such names as former U.S. presidents Bill Clinton and Jimmy Carter who, collectively, have been champions of inclusion for many decades. Other distinguished honorees included Oprah Winfrey.

"The List represent individuals who have demonstrated a commitment to solutions in diversity issues on a global and "national scale. The honorees have made a significant impact on diversity issues in education, procurement, housing and employment. These unsung champions have not waved a diversity flag but rather have quietly made a difference in the lives of people by positively impacting their lives, and improving the economic conditions for their families and communities.

"I am extremely excited about the honoree list" said Kenton Clarke, CEO of DiversityBusiness. "This recognition brings attention to comprehensible results provided by many different people representing all sectors of diversity, who can quantify success made by their efforts".

The 2010 nomination application can be found online at: www.diversitybusiness.com/NominationFormChampions.doc

Nominations are due: November 30, 2009

Winners will be honored at our Awards Ceremony .

"America should be proud of the results produced by the "Champions of Diversity" and others, says Mr. Clarke. "They are most deserving of this recognition and they continue to make our country the greatest place on earth to live".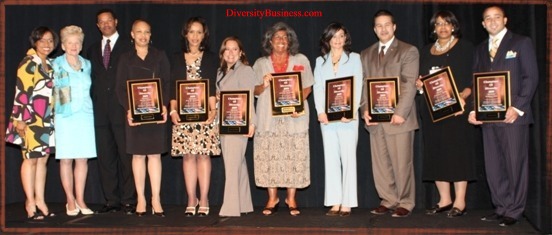 DiversityBusiness.com's 2009 Champions of Diversity

Name
Company
Title
Annette Ficucello
New York Life
Assistant Vice President, Supplier Diversity
Anthony Soto
Wal-Mart
Director, Supplier Diversity
Barbara J. Parsky
Edison International
SVP
Brenda Burke
Wellpoint, Inc.
Director Supplier Diversity – Nationwide
Carmen J. Smith
Walt Disney Parks and Resorts
VP of Global Strategies for Diversity and Inclusion
Faye W. McClure
Farmers Insurance
V.P. of Strategic Marketing
Garth Scully
Cisco Canada Co.
Vice President Enterprise Sales
Kevin Bradley
McDonald's USA, LLC
Director, Inclusion and Diversity
Luisa Acosta-Franco
Farmers Insurance
Assistant V.P. of Emerging Markets
Monica Gil
The Nielsen Company
Vice President, Communications and Public Affairs

About DiversityBusiness.com
Launched in 1999, DiversityBusiness, with over 50,000 members, is the largest organization of diversity owned businesses throughout the United States that provide goods and services to Fortune 1000 companies, government agencies, and colleges and universities. DiversityBusiness provides research and data collection services for diversity including the "Top 50 Organizations for Multicultural Business Opportunities", "Top 500 Diversity Owned Companies in America", and others. Its research has been recognized and published by Forbes Magazine, Business Week and thousands of other print and internet publications. The site has gained national recognition and has won numerous awards for its content and design. DiversityBusiness reaches more diverse suppliers and communicates more information to them on a more frequent basis then all other organizations combined. We also communicate with mainstream businesses, government agencies and educational institutions with information related to diversity. Our magazine reaches over 300,000 readers, a monthly e-newsletter that reaches 2.4 million, and website visitors of 1.2 million a month. It is a leading provider of Supplier Diversity management tools and has the most widely distributed Diversity magazine in the United States. DiversityBusiness.com is produced by Computer Consulting Associates International Inc. (CCAii.com) of Southport, CT. Founded in 1980.


Press Contact: Odetta Rogers | Director Communications | 203-255-8966 | odetta@ccaii.com