About Eradicating Sexual Harassment (ESH)




Approach
Eradicating Sexual Harassment is a 3-hour interactive Internet course. It is the first of its kind to identify, measure and change those specific perceptions that leave employees vulnerable to harassment situations. Hostile environment sexual harassment often reduces to "he said-she said" disputes between employees that are based on their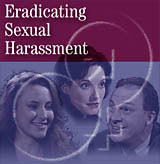 perceptions of harassment acts, not on the tangible consequences of the acts themselves. From our research we learn that there are critical misperceptions that are common to ordinary employees that inhibit empathy, nature's antidote to hostility. Sexual harassment prevention removes these roadblocks to effective self-advocacy.

Instead of reciting laws and rules, ESH seeks to make employees think more critically about their own perceptions and responses to sexual harassment. Traditional training only addresses a person's 'public voice' - the socially correct way to think and feel. It doesn't reach the 'private voice' - how we really think and feel. The private voice ultimately dictates behavior, no matter what we 'tell ourselves' publicly. ESH addresses both, to give trainees insight to alter the course of harassment, to protect themselves, and to help co-workers.

The training course is structured around a soap opera of a sexual harassment incident shown over 8 vignettes. It is based on a real case. Richard, a manager, is sexually harassing Crystal, his subordinate and Liz, a fellow manager. The drama begins on Crystal's first day on the job. Eventually Liz reports Richard and Human Resources conducts an investigation. What happens to Liz? Can Richard be rehabilitated? How do their coworkers cope with the aftershocks of the incident?

After each vignette, participants complete assessment scales that explore their perceptions of the characters and their empathy for them. This is their "private voice" what they "really feel" about what is going on. Simultaneously, the "public voice" of the law and company policy are introduced. When the two are in misalignment, there is an increased risk for sexual harassment. Using structured role-plays that incorporate assessment and feedback, participants' public and private voices are brought into alignment.

Research shows that ignoring these common misalignments increases the employer's exposure:

"Blaming the victim" stops managers, coworkers and victims themselves from identifying and acknowledging sexual harassment as it occurs.


"Whistleblower's guilt" inhibits victims and coworkers from reporting sexual harassment as it becomes evident.


The "conspiracy of silence" causes coworkers to fragment when sexual harassment is ignored.


The "double bind of confidentially" protects the accuser, accused and witnesses in a sexual harassment investigation, but prevents all parties from getting needed support when a complaint is made.


In the sexual harassment aftermath, counsel advises the employer to keep "eyes wide shut" to what led up to the problem if such knowledge is "discoverable" in court.

Eradicating Sexual Harassment is designed for employees of all levels in the organization, from non-supervisory staff to executive leadership, Human Resources personnel and corporate counsel. There is an optional feedback report for employers on aggregate scores that can be used for future planning.

Benefits
Traditional sexual harassment training enables employees to identify inappropriate behavior after it happens, but does little or nothing to prevent it. As a result, sexual harassment claims have continued to climb, costing employers millions of dollars. ESH helps employers avoid these exposures because its research-based approach is aimed at prevention - the best protection an employer can have.

Sexual harassment is a growing problem. The cost to employers in awards made in settlements increased by nearly two-thirds in the last few years and the number of jury verdicts also rises every year. It is not uncommon for single plaintiffs to win verdicts in excess of $1 million.

Most of these settlements are for cases of hostile work environment sexual harassment. They typically begin as 'he-said she-said' disputes that are rooted in how the employees perceive their problem. Supervisors don't know how to prevent these disputes from escalating, and by the time they end up in court, no one is 'right' and everyone feels wronged.
We now have a way to help employers avoid these costly exposures. Eradicating Sexual Harassment was developed by two psychologists to identify and then correct those critical misperceptions that most often get employees into trouble. Like being on Candid Camera, we catch employees in the act of being themselves, and they can never go back to their old ways of perceiving sexual harassment.

Customization
Having policies and procedures to deal with harassment is of little use if employees face psychological and other roadblocks that get in the way. Our program is designed to help them work through those barriers - and by presenting your policy in this context, greatly enhance its effectiveness.

Your organization's policy and procedures can be integrated into the Eradicating Sexual Harassment presentation. The user is directed to particular parts of his or her employer's policy at key parts of the program. The user may also review it at will with a single click from anywhere in the program.

Links to your own web site or Intranet can also be provided at relevant times during training.
The interactive "scales" built into the program are designed to help employees understand their own emotions and perceptions provoked by sexual harassment situations. There are no right or wrong responses. But it may be important to measure employees' knowledge of policy and procedures. Customized pre- and post-tests can be incorporated for this purpose.

While individual user responses cannot be disclosed, we can analyze the aggregate data from all of your users, compare them to other populations, and identify areas of concern and opportunity. On-site consulting, expert testimony and other services are also available.

Custom training modules can also be developed for you. In addition to tests, these can include video segments and other interactive and multimedia elements.

Technology
ESH will run on a the vast majority of platforms found in the typical workplace, or even at home. Most browsers equipped with the Flash 5 (or higher) and RealVideo 8 (or higher) plugins are compatible. The server-side technologies are state-of-the-art.
Eradicating Sexual Harassment utilizes recent mainstream browsers and common multimedia plugins (Flash and RealPlayer) on the user end. Hardware requirements are moderate, and most browser/operating system combinations are compatible. The Help section provides details on user system requirements.

The program is designed for moderate bandwidth Internet connections. A modem connection (56K) is sufficient to run the program, but faster connections (DSL, Cable Modem, company network) are recommended for optimal video quality.
The server side includes the latest Java and database technology, delivered via Rutgers broadband connections to the Internet.

The program can also be configured to run on a customer's own servers. Please contact us for details.



Endorsements
Eradicating Sexual Harassment is recommended by major insurance companies, law firms, risk managers and others with expertise in sexual harassment prevention and litigation.
ESH – Online is a joint effort of the Division of Continuous Education and Outreach, Rutgers University, and Corporate Matters Limited (a partnership of D & D Industrial Consultants and Telequest, Inc.)

Pricing
$99 per person. DiversityBusiness.com members will receive 10% discount on all the courses.